Sunday School and VBS Ideas
Add a mission emphasis to your Sunday School or VBS! Below you will find several ideas that will engage students in missions.
Want to see our suggestions and promotional materials for the 2021-22 school year?
Miriam Home in Brazil – Follow Them Home Project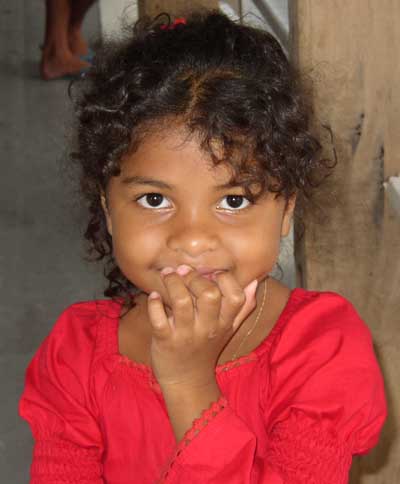 People often ask if it is possible to sponsor children in the Miriam Home, and the answer has always been no. The reason is that we never know how long any child will stay, so by the time a person or group of people decides to sponsor a child they may have already rejoined their parents or gone to live with an aunt or grandmother.
But the Miriam Home's involvement in the lives of the children doesn't always end when the children go home. Many times we see practical needs in the homes, and we know that a helping hand would greatly help restore the family. For that reason the World Missions Committee has set up a new project "Follow Them Home." With this project the Miriam Home and our local congregation, Lar Parana, can provide practical and spiritual support to the whole family.
Challenge your Sunday School or Vacation Bible School to "Follow Them Home". If you would like to help follow our little ones home you can send your gifts to AFLC World Missions and just attach a note saying it is for the "Follow Them Home" project. We will keep you informed on which families we are following and how they are doing!
Children's Christmas Boxes for Mexico
One of the highlights of the year for our church in Jerez, Mexico is the Christmas outreach program in the Kids' Clubs. Many parents come to listen to their children sing and also to see our church youth group perform several puppet skits. Our Sunday School shares the story of Christmas in the annual Christmas play and each year we give each of the children who regularly attends our Kids' Clubs and Sunday School a Christmas gift bag with lots of little gifts inside.
It's kind of like the Christmas shoe boxes you often hear about. We purchase Arch Book Bible story books, a Christmas ornament, hygiene items like toothbrush, toothpaste and band-aids, school supplies and a small toy or two and put them in a specially made bag that someone up in the U.S. has made specifically for this project. We've had 80-100 kids that we've given gifts to in the past.
The kids are delighted! For some of them it is the only Christmas present they receive. It is a wonderful way to share the love of Jesus in a very tangible way, connected with the love of Jesus that we are teaching them about throughout the year.
Horeb Children's Home in India
India could be called a dark place spiritually. It is a place where only two percent of the people are Christian, and the rest are predominantly Hindu. Yet there is a light glowing there, shining the Good News of salvation in Christ. It is the AFLC work going on in India.
It affects people like Jyothi. Jyothi lives at the Horeb Children's Home run by the Association of Free Lutheran Congregations of India. Jyothi is not an orphan, but her parents are poor and not in a position to feed her well and give her a good education. Living at the Horeb Children's Home she receives an education at St. Paul's Lutheran School and regularly hears about the love of Christ. It is our prayer that the time spent in the children's home will change her life and the lives of generations to come.
Support a child at the Horeb Children's Home:
Your VBS can support a child at the Horeb Children's Home for $40.00 a month or give a one time gift that will support children without supporters. Your gift will allow children to hear the Good News of Christ. You will be a light shining in a dark place.
If​ you would like to support a child at the Horeb Home contact the World Missions office at worldmis@aflc.org
The Word of God, specifically the Gospel is the primary means that God uses to create and strengthen faith in peoples lives. Therefore, it is important that people have the World of God in their language to read and ponder. Every one of our mission fields can benefit from Bibles to give to people who do not have them.
Sunday Schools and VBSes have been motivated to give Bibles to people who don't have them. Pick out a country and encourage your students to give the Word of God to those who don't have it.