World Missions Bulletin Inserts
Check out our four new bulletin inserts that highlight the global ministry of the AFLC!
Although March 2022 is AFLC World Missions' promotional month, our hope is that you feel welcome to use these bulletin inserts as a resource to have available to your congregations at any time.
Short Videos Highlighting our Fields of Work
World Missions PowerPoint
Click the
image
to download an informational PowerPoint that you can use in your congregation to highlight our ministry
World Missions Family Album
The World Mission Committee publishes a document which contains information about our work. This 'Family Album' is a great way to get acquainted with the missionaries, fields, and other activities of AFLC World Missions.
The Family Album is available for download by clicking the image.
We encourage you to use it as a communication tool in your local congregations!
Go. Proclaim. Plant. Equip.
The
11x14 poster
is easily printable and a great way for your congregation to see who our missionaries are and where they are serving! Click on the image to download.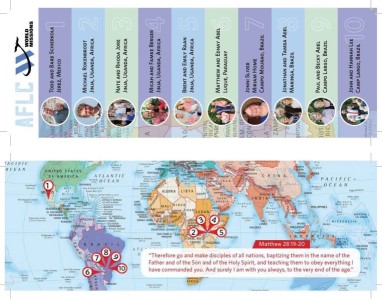 The printable bookmark can be used as a way to remember to pray for our missionaries! Click on the image to download and be sure to print two-sided.
If you would like to print smaller bookmarks, four to a page, click here to download.