World Missions Family Album
The World Mission Committee publishes a document which contains information about our work. This 'Family Album' is a great way to get acquainted with the missionaries, fields, and other activities of AFLC World Missions.
The Family Album is available for download by clicking the image to the left (or above on a smaller screen).
We encourage you to use it as a communication tool in your local congregations!
The
11x14 poster
is easily printable and a great way for your congregation to see who our missionaries are and where they are serving! Click on the image to download.
The printable bookmark can be used as a way to remember to pray for our missionaries! Click on the image to download and be sure to print two-sided.
If you would like to print smaller bookmarks, four to a page, click here to download.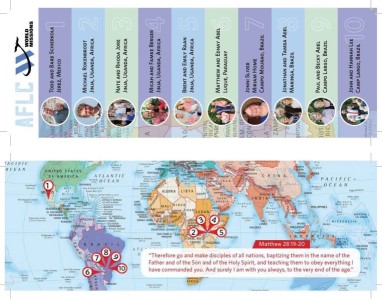 World Missions Bulletin Inserts
Dear AFLC friends,
The 2021 AFLC World Missions promotion month was February.
Below, please find four inserts you may use anytime during the year.
Our greatest need, after prayer, is in the area of personal support for our missionaries.
Jonathan and Tamba Abel have been on the field since 1991, and some of their long-time supporters have been called home to glory- so they have a need for additional supporters.

Another ongoing need is for our World Missions General Fund. When our missionaries are behind on their personal support, we can help them only as funds are available.
Thank you for standing with us by supporting our missionaries with prayer and giving. And thank you for your help in promoting AFLC World Missions.
Blessings in Jesus,
Earl Korhonen, Director AFLC World Missions
Week 1 - Connecting Congregations with AFLC World Missions
Week 3 - World Missions Special Projects
Missionary Greeting Video
Click the image to the right (or below on a smaller screen) to download a PowerPoint of missionary pages that you can use in your congregation to highlight one or all of our missionaries!