John and Hannah Lee have been missionaries with AFLC World Missions since 2018. John grew up on the mission field in Bangladesh and early on had a desire to work with global missions. While in Alaska, he met his wife Hannah, who also had her heart drawn to God's work abroad by the testimony of missionaries in her church.  John and Hannah have five children and their family lives in Campo Mourão, Brazil.
After John finished seminary at FLTS, it was brought to his attention the need for faculty at Seminário Teológico Luterano Livre, (also known as SETELL), the theological seminary in Brazil. Answering the call to South America, the Lees have spent the last years adapting to their new home and culture.  Language learning has been the largest part of that adjustment.
John, Hannah, and their children: Bethany, Eliza, Ayda, Anastasia, John Jr., Jeffery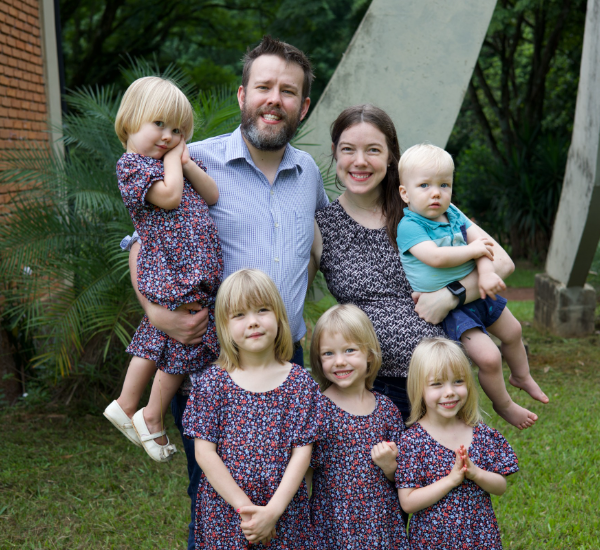 The Lees are excited to be a part of Christ's work in Brazil.  "As we have lived here," John said, "we have witnessed a growing desire by Brazilians to plant more churches in other States."  The seminary is a vital piece in establishing free and living congregations throughout the country.  John is eager to train the students at the seminary, giving them a foundation in the Word of God to be leaders in their future parishes.  Each course at SETELL strives to equip the future Free Lutheran churches across Brazil.  When foundational truths are taught, it affirms to the congregations that it is grace alone through faith in Jesus Christ that they are saved and not a righteousness that is earned. At the seminary, John will be teaching courses such as Systematic Theology and Biblical Greek.
Seeing the need for more biblical teaching materials in Portuguese, John is also working towards translating recourses from English into Portuguese. This project, DRELL, is a lengthy one, but John is thrilled to share these materials with churches and individuals who need them.
The Lees' vision in their ministry also goes beyond SETELL, walking beside the laymen and women in congregations and encouraging them in their walk with Jesus Christ.  The core of their ministry is discipleship, which by nature is a daily living Christ-like among others and has ripple effects in communities.  Hannah stated, "The main goal is to equip believers to be able to teach others about the faith."  This wonderful aspect of living life alongside believers strengthens families and churches in their community.  In the future, the Lees hope that this partnership with Brazilians in their biblical training will lead to church plants founded by nationals across even more states in Brazil.