Trip Reflections: India and Uganda
A quick recap from recent trips to the mission field.
This spring, World Missions executive director Earl and Joan Korhonen traveled to two of our fields of work. We are so very grateful for individuals who continually keep our department in prayer as we make these long journeys. Visiting the ministry is always a great joy for our department. We are continued to be inspired by the faith of brothers and sisters in Christ all over the world.
The Korhonens, along with Del and Karen Palmer, made their way to India in early March. Being able to witness the growing hunger for God's Word among the Indian people, Earl and Del taught theological classes to pastors and Bible women.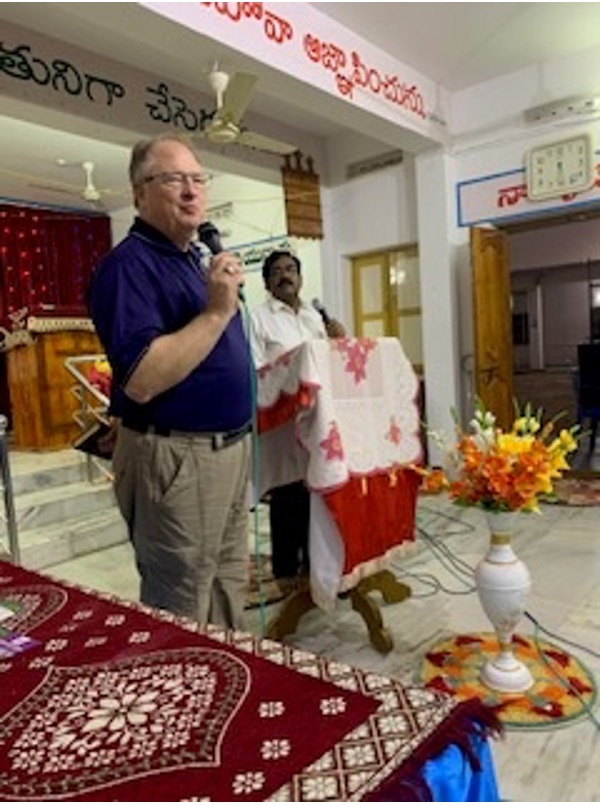 Del Palmer teaching in India with Luther translating
"Del started with his lecture on Daniel, and I presented the Doctrine of the Word." Earl said, "Twenty-four pastors and three Bible women attended the 1st day of classes. Luther translated for Del, and another pastor translated for me. The students seemed most interested in the distinction between Law & Gospel."
Youth ministry is thriving in India as well! For once-a-month events, around three hundred young adults gather to grow in their walk with Jesus. The Horeb Children's Ministry is fulfilling its mission to provide for children in need through the local congregation. Individuals are welcoming children into their homes with your financial support. Churches also host kids club programs and 40-50 come each night in some locations.
At the end of March, the Korhonens met up with Kent Sperry and his daughter Grace in Uganda. During twenty home visits with Nate Jore, they had the opportunity to hear testimonies from individuals who had been impacted by the study of God's word through Ambassador Institute.
A significant part of this trip was also to partner with the Ugandan leadership team for Ambassador Institute for a retreat.
"We had a packed schedule of hearing about the AI history and testimonies from the Leadership Team," Earl said. "They opened our sessions with a wonderful time of African worship- the ladies singing and the men on percussion. After lunch, I cast the vision for church planting by sharing the history of the AFLC, our goals in AFLC World Missions, and a presentation on the AFLC Fundamental Principles."
Ambassador Institute graduations
Another highlight from the trip, attending graduation ceremonies for the Ambassador Institute program in Jinga and Gulu was a joy! At Nakasongala, Earl and Kent joined thirty-four graduates from five different classes. Brent Raan and Michael Rokenbrodt have been diligently leading Ambassador Institute classes at the Gulu market and the village of Paicho.
-- Madison Greven, AFLC World Missions Communication Coordinator