An Ugandan Outlook on Prayer
AFLC Missionary Michael Rokenbrodt reflects on how the practice of prayer in shown in the lives of believers in Uganda.
One of my favorite professors would often say, "The best way to learn is to teach." Practicing what he preached, he would have his students take turns teaching most of course. A recent Muslim convert asked me, "Could you teach me to pray for others? My wife asked me to pray for some in the hospital recently, and I wasn't really sure how." The question came at a fortuitous moment as I happened to be preparing a training session on that very subject. I had even developed a full PowerPoint on it. Shariff and I had a good afternoon together going through it. But there was a lot more I was going to learn on that subject only a few days later at our first official Ambassador Institute Intercessors Conference. And it would be the ones we had gathered as to be the "students" who would be teaching me.
On the following weekend, eleven zonal chairpersons and eleven zonal intercessors traveled to the home of Momma Nissi, Alex, and Mary. Some came early on Saturday morning and would return home that evening. More distant travelers arrived the night before and would not be venturing back until Sunday. Our meeting place also happens to be my host home when I am in Jinja. Our sitting room was full of sleeping guests. For some of these villagers, it would be their first experience overnight in a city home – with its running water, flush toilets, electric lights, and pizza supper pick-up.
After a breakfast of tea, bread, and bananas, the chairpersons went upstairs and attended sessions on planning, mission, servanthood, and encouragement.  The intercessors stayed with me for a study on the prayers found in the Old Testament.  Pastor Lulyo, our national intercessor, led a session on the prayers of Mordecai and Esther.  Following him came Pastor Bagatya, intercessor of our council of elders.  He led a session on the prayer in Ezra 9.  And I gave my PowerPoint on the prayer in Daniel 9.  We also took time to organize a prayer initiative for Ambassador Institute – at which point I began to learn in earnest from the people we had worked so hard to gather.
The intercessors unanimously committed to connecting with one another once a month by WhatsApp (or by a phone chain for those without smartphones) on a Thursday at 1AM for dispersion of prayer requests across the eleven zones, followed by a day of fasting.  This was a slight adjustment from the original proposal of Wednesday.  Some had objected to Wednesday because it was a day they had already designated to fasting on behalf of the prayers of their congregation.  I was thinking to myself that a single day of fasting on behalf of both congregation and Ambassador Institute might serve just as well.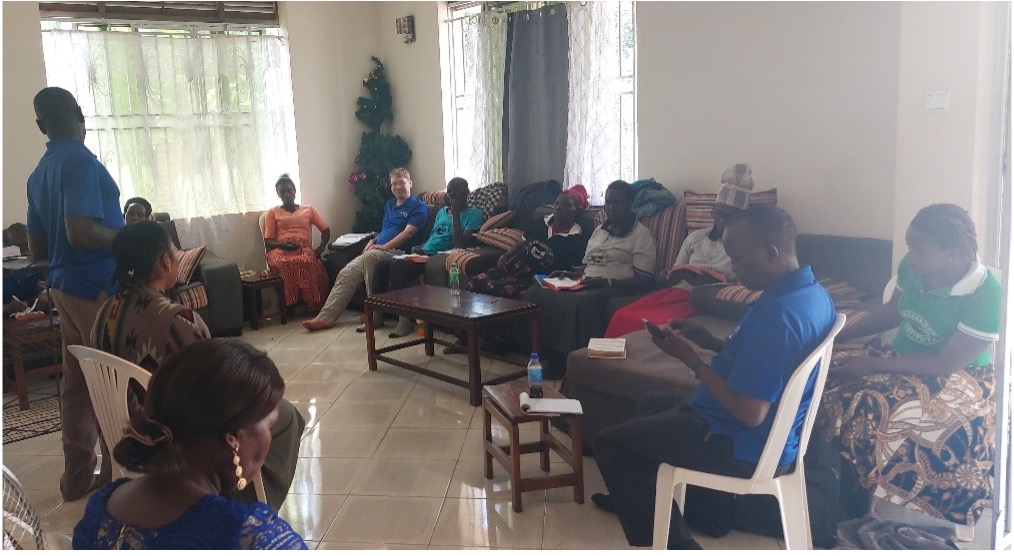 Pastor Bagatya organizes the phone chain
My thought was interrupted by a comment made by the intercessor sitting next to me.  Of the eleven zonal intercessors, he happened to be the one male.  "In Nakasongola, we don't have such a good phone network.  But I will set my alarm on my phone so that when it rings, I can go and climb a tall tree and get the messages."
Everyone nodded in approval.  I was still trying to grasp the idea of getting up at 1AM for prayer.  I turned to him a bit awed and said, "Are you sure it is safe to be a climbing tree at 1AM?  What if there is a snake there?"
Everyone laughed, and the gentleman assured me, "I have a good tree.  It will be quite easy."
 It was the latest moment in a line of awesome reflections I have experienced regarding the Ugandan outlook on the priority of prayer in a Christian's life.  I had not expected such results when I had met with Pastor Lulyo and Bagatya to organize this conference, but I think Pastor Bagatya had had an inkling.  As we were planning, he had looked at me soberly and said, "This one was long overdue.  In fact, it's really the kind of thing that should be done every year."  He's right.
-- Michael Rokenbrodt, AFLC Seasonal Missionary in Uganda